Eyeglasses & Contact Lenses in Gettysburg & York, PA
14 Reasons Why the Leader Heights Eye Center is The Place to Obtain Your New Eyeglasses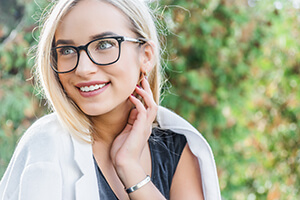 Welcome! We want to introduce you to the Optical Shop in York, PA at the Leader Heights Eye Center. Here you will find one of the most professional facilities of its kind in the greater York area.
Below are some reasons why our Optical Shop has received rave reviews from customers:
Seamless Care. Your doctors know you and the condition of your eyes. When you visit our Optical Shop, your doctor will fully brief your optician about your visual needs and wants. There is never a lapse in your care from the time you arrive for your examination right through the time you pick up your new eyeglasses.
One-Stop Shopping. Save time and experience the convenience of going from your eye examination right to selecting just the right pair of eyeglasses. Why make two stops?
Certified Opticians. Pennsylvania does not require opticians to be licensed or certified. Because we believe better training means better care for you, our opticians are required to be certified by the American Board of Opticianry. Our opticians are also required to obtain a significant amount of continuing professional education every year.
Personalized Attention. One of our opticians will provide you with one-on-one attention from start to finish. Our opticians will demonstrate each option recommended by your doctor and provide extensive patient education on the benefits you will receive from those options. You decide which lenses and frames fit your needs and budget best.
Extensive Collection. Our extensive collection of frames and lenses allows our opticians to give you choices in all price ranges from good, to better, to best. You will always find something to fit your lifestyle and your budget
 No Fixed "Packages". You will not be restricted to purchasing your options in pre-set groups. We will not make you buy options you don't want or need.
 Special Orders Don't Upset Us. Many optical shops only sell those frames they have on display; they either fit or they don't. Because you come first at the Leader Heights Eye Center, if you see a frame you would like in a different size or color, your optician will special-order it…with no obligation to you.
 Superior Quality. Our eyeglasses exceed the industry's First Quality standard. Our rigorous 27 Point Quality Assurance Program is your guarantee that your new eyeglasses will be defect-free and the highest quality you will find anywhere in the area.
 Latest Technology. Our Optical Shop offers the newest, state-of-the-art lens and frame technology. We will always be your resource for information on what is new and better for you and your vision. If it's new, you'll find it here first! In-between visits, visit our web site for information on new advances in lens technology, frames and the latest fashions in eyewear. Better yet, sign up for our periodic e-mail newsletter. We will inform you when new products are introduced and offer you exclusive discounts on them.
Style and Quality You Can Count On. We carry brands that are recognized throughout our industry for style, advanced technology, and product quality. Every eyeglass frame comes with a full one-year warranty, at no charge to you. Some treated lenses come with a two-year warranty (ask our optician for details), also at no charge.
 We Accept Vision Plans. Our Optical Shop accepts many insurance plans. Call us and we'll research your plan's benefits for you before you visit.
Customer Loyalty Program. We offer discounts on non-prescription sunglasses to our contact lenses patients, discounts on second pairs, special promotions and trunk shows throughout the year for our previous customers. Sign up for our e-mail newsletter, or visit our web site often to learn about upcoming events and money-saving promotions.
Competitive Pricing. We conduct price comparisons twice each year. You will always find our price for identical products to be competitive and fair, if not lower.
Total Satisfaction Guarantee. If you are not totally satisfied with your new eyeglasses, return them. We will do whatever it takes to make things right…including refunding your money, if we can't please you.
Eyeglasses York, Gettysburg, Lancaster, PA
With all the advantages available to you at The Leader Heights Eye Center Optical Shop in York, PA, it makes good sense to obtain your new eyeglasses from us. Even if you choose not to make a purchase, please stop by and browse.
Leader Heights Eye Center is located in York, Pennsylvania, a 45-minute drive from Harrisburg, Gettysburg and Lancaster.